The Best Times to Order Pizza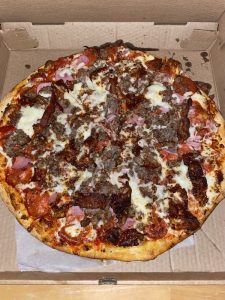 We're big pizza lovers here at Pizza Tugos and we could eat it all the time! However, there are times when pizza hits the spot much more than usual and becomes a cherished tradition. As the favorite food of many, it's not often that a slice of pizza will disappoint, especially when it's made with the best quality ingredients like at Pizza Tugos. 
If you're looking for the best times to order a large pie, check out our list of occasions where a pizza makes everything better! Contact us today or order online for delivery.
Since Pizza Tugos is Ocean City, MD's original pizza delivery service, it's only right to enjoy a pizza as your lunch or dinner during a beach day! Keep your crew energized on the beach after fun in the sun and surfing the waves. No need to bring a cooler or pack any sandwiches—you'll be set with a delicious and easy meal.
The term "pizza party" might bring you back to the feeling of excitement in elementary school but we promise that feeling lasts at all ages! Whatever the occasion, choose Pizza Tugos. Pizza is always a crowd favorite! Order the classics or opt for some of our delicious craft pizza creations.
Pizza Tugos is up late with you at all 3 of our locations to deliver your late-night snack! Whether you're looking for a solo meal or feeding a group of friends after a long night out on the town, our big and fresh pizzas are the way to go. Plus, leftover pizza is great for breakfast!
For those days where you're out of groceries or you're just not feeling like cooking up a meal, Pizza Tugos is here for you. Order an affordable and yummy dinner that will feed the whole family. Plus, with Pizza Tugos, you can have the best of both worlds! If you want to get out of the house you can come to enjoy a slice and a variety of craft beer at our taproom, or if you're staying in, we'll bring it to you with fast & free delivery.
Getting hungry yet? Choose Pizza Tugos as your number one pizza delivery, taproom, and dine-in location in Ocean City, MD! We make dinner easy.