Best Pizza Toppings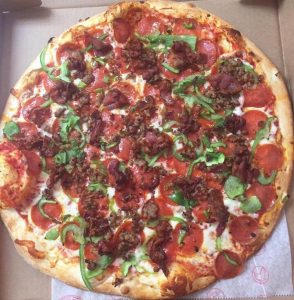 It's the age-old question that comes up when ordering dinner for a group or posing icebreakers to get to know someone better. What are the best pizza toppings? At Pizza Tugos, there's no right answer because we have all your favorite toppings for you to enjoy!
While there's certainly nothing wrong with the classic and simple pizza toppings of cheese, pepperoni, or sausage, Pizza Tugos likes to give our customers options that are both unique and tasty. Once you try our craft pizza, you'll never go back to those plain pies again!
Craft Pizza in Ocean City, MD
Our traditional pizzas are always here for you, but if you're looking for a real treat for your taste buds, our craft pizzas are the way to go. Here are some of our favorite and most popular options!
The Godfather: We're gonna make you an offer you can't refuse… with this delicious combination of meat and veggies. Your favorite meat toppings including, pepperoni, sausage, ham, ground beef, and bacon, are paired with green pepper, onion, and mushroom. And we can't forget the extra cheese!
King Caine: Try one of our most popular and unique craft pizzas! Crab, shrimp, artichoke, and sliced tomato are mixed with a yummy Old Bay cream sauce. The perfect OCMD treat!
Cheeseburger: Having trouble making up your mind about what to order for dinner? Well now, you can have a delicious pizza that also satisfies those cheeseburger cravings! With ground beef, bacon, American cheese, and pickles topping the pie, you get the best of both worlds.
Mystic Mushroom: Another popular choice is our Mystic Mushroom craft pizza including mushrooms, artichoke hearts, green olive, and feta cheese.
The Meat: Meat lovers– this is the one! Similar to The Godfather but without those pesky veggies in the way, enjoy the blend of flavors from pepperoni, sausage, ham, ground beef, and bacon. 
Veggie: Don't worry, we didn't forget about the veggie lovers! This craft pizza is topped with green pepper, onion, mushroom, and of course– extra cheese. 
The best part about all of our pizzas here at Pizza Tugos? We offer fast and free 30 minute delivery from any of our three locations in Ocean City, MD! Order your meal online today and never turn back to plain pizza pies!