Celebrating 40 Years of Pizza Tugos Taproom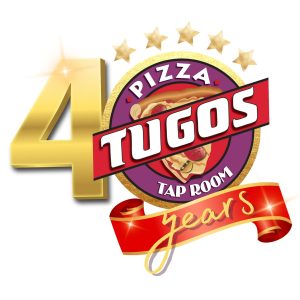 Pizza Tugos is celebrating 40 years of our taproom, excellent service, and delicious food! 40 years ago Pizza Tugos became the first pizza delivery shop in Ocean City, MD, you can thank Mr. Tugo for that. In 1983, food delivery was unheard of, but he was determined to have a speedy delivery service that people could not refuse. As you can see, it worked out pretty well for him, and now Ocean City is blessed with multiple Pizza Tugos locations that we get to enjoy. 
Pizza Tugos is a comfortable and relaxing spot where customers can gather with friends and family while indulging in mouthwatering pizza and the best beer on tap. Pizza Tugos has three locations, one in West Ocean City while the other two are located midtown and uptown OCMD so visitors are able to get a pie wherever they are!! 
Pizza Tugos Specials in Ocean City, MD 
There are two Pizza Tugos in Ocean City, MD with the best pizza delivery service around. One is located a block away from the boardwalk on 18th street while the other is located uptown on 116th street. Pizza Tugos downtown is mainly for delivery and quick stop-ins after the bar but the one uptown is similar to the West Ocean City location. There's a seated dining and bar area with stools and plenty of beer for you to try on tap. 
Pizza Tugos has definitely expanded since 1843, with additional menu items, a large selection of craft beer, and live music, but still the same fast delivery! In honor of the 40th year anniversary, Pizza Tugos is having specials this month. As a way of showing appreciation, we're offering $1 chicken wings Monday through Thursday for groups of 10 or more. This is valid until February 28th, stay updated and check for our constantly changing specials EVERY month! 
A lot has changed in Ocean City, MD over the last 40 years but Pizza Tugos continues to be a town favorite establishment with something to offer the whole family. Be sure to stop in and see us—cheers to another 40 years!