Best Bars in Ocean City, MD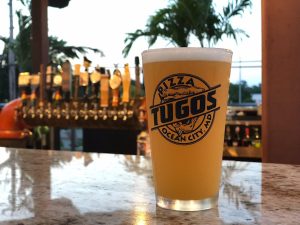 If you're looking for a bar with a fun and festive atmosphere, then you have to stop by the Pizza Tugos Taproom in Ocean City, MD. This popular spot offers a wide selection of craft beers, delicious food, and a lively atmosphere that's perfect for a night out with friends.
Pizza Tugos Taproom & Rooftop Tiki Bar
One of the highlights of the Pizza Tugos Taproom is its rooftop tiki bar. The tiki bar offers a relaxed and tropical vibe that's perfect for sipping a cold beer on a hot summer day. The bar features views over West OC, palm trees surrounding you, and an awesome live entertainment lineup all summer long!
In addition to its fun outdoor space, the Pizza Tugos Taproom is also known for its extensive beer selection. The taproom offers over 75 beers on tap, including many local brews. Whether you're a fan of IPAs, stouts, or sours, there's sure to be something on tap that you'll love. The bar also offers a variety of wines, cocktails, crushes, and frozen drinks, so there's something for everyone.
If you're hungry, the Pizza Tugos Taproom has you covered. The menu features a variety of delicious appetizers, pizzas, sandwiches, and salads. Some of the most popular items include the buffalo chicken pizza, the crab dip, our famous wings, and decadent burgers. The bar also offers daily specials, so be sure to check those out as well.
One thing that sets the Pizza Tugos Taproom apart from other bars in Ocean City is its lively atmosphere. The bar is always buzzing with activity, and there's usually a game or event on one of the many TVs scattered throughout the space when there's no live music or karaoke going on. Whether you're looking to watch a game with friends or just enjoy a night out, the Pizza Tugos Taproom is the place to be.
Still wondering if the Pizza Tugos Taproom is one of the best bars in Ocean City, MD? With its fun and festive atmosphere, large beer selection, and great food, it's the perfect spot to unwind after a day at the beach or to chow down on a pizza with friends. Be sure to stop by this summer in West Ocean City and check it out for yourself!