You're in Luck! It's time to Celebrate St. Patrick's Day at Pizza Tugos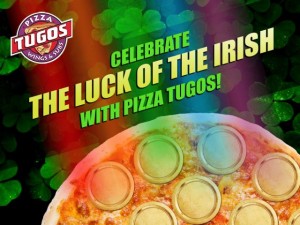 The weather has had everyone feeling spring (and even summer!) this week in Ocean City, and that includes the Pizza Tugos family. There's just something about sunshine and warm weather that makes you crave a cold craft beer from the Tap Room at Tugos. It's certainly got us looking forward to long days spent enjoying our rooftop Tiki Bar! But before we get to spring, we've got St. Patrick's Day to celebrate.
The St. Patrick's Day Parade is one of our favorite Ocean City events, as the whole town turns out to enjoy the festivities. It's an all-ages event, with floats parading from 58th Street south to 45th Street. Kids can enjoy candies and other goodies that are tossed into the crowd, while adults get to partake in some green beer at the 45th Street Village. With the weather forecast in our favor this year (let's not talk about last year's very, very rainy parade day), it's shaping up to be a perfect day for a little Irish pride. Of course, after the parade, you'll be ready to fill your bellies with some delicious food…and perhaps some more beer. We'll be open and ready for all of our green-clad friends, so head in for pizza, wings, subs, craft beer, cocktails and much, much more. Running in the annual St. Pats 5K Run in OCMD? Even better! Stop in for a carb overload! And for those of you who maintain the 'go big or go home' mentality when it comes to St. Patrick's Day festivities, we especially encourage you to stop in to show off your finest St. Paddy's Day gear…and to load up on plenty of food to keep you going all day and night.
And now, the countdown to spring begins!