West Ocean City Pizza Delivery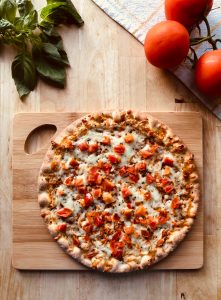 Looking for pizza delivery in West Ocean City? Look no further than the Taproom at Pizza Tugos! Conveniently located at the corner of Rt. 50 and 611, the Pizza Tugo Taproom is the perfect location when you're crazing a hot bit of pizza pie, no matter if you're in Berlin, West Ocean City, camping on Assateague Island, or vacationing near the Inlet. 
Since 1983, Pizza Tugos has been Ocean City's original and best pizza delivery service. Our team works hard to continue to provide locals and vacationers alike with the best delivery service! We make sure that your pizza is always delivered fast and free. 
Have a hungry mouth to feed that doesn't like, or just is not in the mood for pizza? No problem! Pizza Tugo's offers delicious entrees, salads, sandwiches, subs, and so much more! All prepared to perfection to satisfy your taste buds. Pair your pizza with the best wings in Ocean City, or start off with a delicious appetizer! Pizza Tugo's offers a wide variety of options to satisfy your entire family. 
Free Pizza Delivery in Ocean City
With three locations throughout Ocean City, you can be sure that your pizza will always be delivered on time for a night in with friends, or an easy dinner that will please the entire family! For pizza lovers who are staying in town, our Uptown location is located on 116th St., perfect for out-of-towners and locals who reside on the North end of town. If you're staying closer to the Ocean City boardwalk, our Downtown location on 18th St. is perfect for those who are looking for an easy bite to be delivered straight to their front door after a long day on the beach.
What are you waiting for? Order Online and enjoy Fast and Free Delivery when you Carry-Out with the Best Pizza in Ocean City, Maryland.