West Ocean City Food Delivery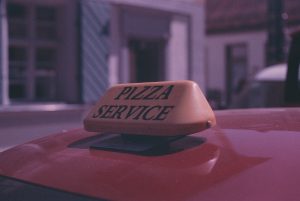 Are you looking for food delivery services in West Ocean City, MD? Look no further than the best pizza spot in OCMD, Pizza Tugos! At Pizza Tugos, we offer the best food delivery service on the Eastern Shore, making sure that your pizza is always delivered fast and, better yet, free.
When you place your delivery order with Pizza Tugos, you can be sure that you're always receiving good quality pizza with the freshest ingredients available. Since 1983, Pizza Tugos has been Ocean City's original pizza delivery service! With three locations throughout Ocean City, you can be sure that your pizza will always be delivered on time for lunch or dinner!
Carry-Out in West Ocean City
At Pizza Tugo's, we remain open for carry-out daily until midnight every night, and until 3:00 am on Friday and Saturday! Order from our expansive menu for carry-out, or, visit our West Ocean City location for a return to normalcy with outdoor dining! 
The Pizza Tugo Taproom at Route 50 & 611 is the perfect location to place your order the best pizza in West Ocean City! In the mood for something different? Satisfy your taste buds and pair your pizza with the best wings in Ocean City or enjoy a crisp, delicious salad, calzone, sandwich or subs, at Pizza Tugo's we pride ourselves on offering a wide variety of options to satisfy everyone in your crew.
What are you waiting for? Order Online and enjoy 30-minute Fast and Free Delivery when you Carry-Out with the Best Pizza in Ocean City, Maryland