Weekend Warriors Head to Pizza Tugos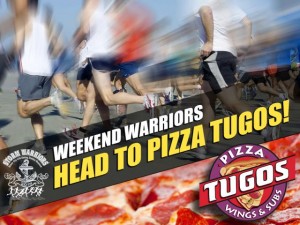 The weekend is upon us, and while we are already eying up Thanksgiving (and the Thanksgiving eve shenanigans) there are still two weeks to relax and enjoy a little calm here in Ocean City. The weather has been mild lately and this weekend looks just as promising, which will be perfect for those of you gearing up for the Storm Warriors Boardwalk 5k. Starting at the Ocean City Life Saving Station Museum, the 5K will send runners and walkers on a 3.1 mile trek up the boardwalk and back, starting at 9am. After the race, join us for lunch at Pizza Tugos! Celebrate with a pizza and a pint of our local craft beers; after all, we have the largest selection in town!
Football is also in the forecast for our weekend here at Tugos, kicking off Thursday night with the Jets and the Bills at 8:25pm. Sunday, the matchups are looking promising, with the Redskins facing the Saints at 1 and the Ravens back after a bye week to take on the Jaguars. As always, enjoy all-you-can-eat pizza and wings during all of the NFL games for just $9.99. Bring on the weekend!
Thursday, November 12th
Jets vs Bills @ 8:25pm
Sunday, November 15th
Redskins vs. Saints @ 1:00pm
Eagles vs. Dolphins @ 1:00pm
Steelers vs. Browns @ 1:00pm
Ravens vs. Jaguars @ 1:00pm
Vikings vs. Raiders @ 4:05pm
Patriots vs. Giants @ 4:25pm
Chiefs vs. Broncos @ 4:25pm
Seahawks vs. Cardinals @ 8:30pm
Monday, November 16th
Bengals vs. Texans @ 8:30pm