Week 1 of Preseason Football at Pizza Tugos!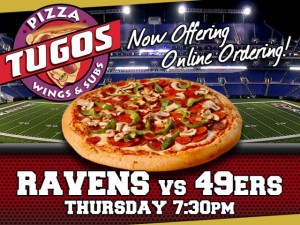 Well folks, we may be experiencing some mild panic over the inevitable end of summer, but there is one thing that we here at Pizza Tugos absolutely love about the final months of summer – pre-season football!! That's right, football season is just around the corner and we couldn't be more excited for another season of football fun at all of our locations. Pizza Tugos is the perfect place to enjoy the big games…with an abundance of flat screen TVs visible from anywhere in the bar, the NFL ticket, a seemingly endless number of beers on tap, and stellar football munchies, Pizza Tugos has you covered (no matter who you're routing for).
Pre-season games are underway this week, which means you'll finally be seeing football back on our TVs! Games will be playing all weekend long, Thursday, Friday and Saturday. Take a look at some of the big matchups this week:
Washington Redskins vs New England Patriots @ 7:30pm, Thursday, August 7
Baltimore Ravens vs San Francisco 49ers @ 7:30pm, Thursday, August 7
Philadelphia Eagles vs Chicago Bears @ 8pm, Friday, August 8
Pittsburgh Steelers vs NY Giants @ 7:30pm, Saturday, August 9
Feel like watching the games from the comfort of your home? We've got you covered. Online ordering is simple and easy at Pizza Tugos, just click here, select your menu items, check out, and enjoy. Opt for pickup or delivery. Pizza and wings are classic football foods but don't forget about our expansive menu of apps, subs, salads and more!