Wash Down Your Winter Woes at Pizza Tugos – Happy Hour and Lunch Specials to Warm You Up!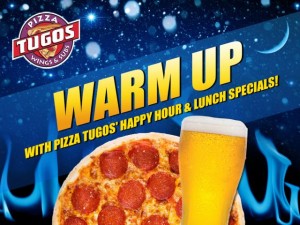 Raise your hand if you are completely over winter?! Well, we are right there with you. At Pizza Tugos, we've found that the best way to battle the winter blues is with delicious deals. Off season specials are sure to warm the soul, especially when they include pizza and beer! We're offering two epic specials right now: Happy Hour and the Little Pie Lunch.
We all get tired of the same old lunch routine, so why not mix it up with lunch from Pizza Tugos!? Our Little Pie Lunch Special is available every Monday through Thursday, from 11am until 3pm with personal pizzas for just $5.99. What's more, you get up to four toppings free. Scoring a great deal on the best pizza in town sure does sound like the perfect way to perk up the middle of your week – especially a cold week.
For Happy Hour, we're offering specials on drinks and pizza. Start the evening off right (or wind down from a long day) with $1 pizza slices. Wash it down with $1.99 rails or half-priced craft beers…and you know we have A LOT of craft beers to choose from. It's the happiest Happy Hour in town, hands down, and it's available Monday through Friday, 3pm until 6pm.
Head into Pizza Tugos and weather the winter blues with us. Spring is just around the corner, but our off-season specials are here right now.