Vinyl Pint Night at Pizza Tugos!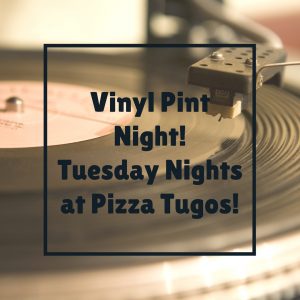 If you put great music, delicious pizza, and craft beer all together what do you get? Of course, you get Vinyl Pint Night at Pizza Tugos! The Pizza Tugos in West Ocean City, MD hosts Vinyl Pint Night every Tuesday so make sure to BYOV(inyl)! Come listen to some great music and discover tunes you might have never heard before, or maybe rediscover some you forgot about. With the variety of music our customers bring in, you never know what you're going to hear!
To refresh your memory we have some wonderful specials that you will not want to miss out on during Vinyl Pint Night. When you order our featured beer from the brewery of the evening, you will receive a free glass from that brewery. Many of our featured breweries are from the Eastern Shore area. Consider your free glass a little token to say "thank you" for participating in our Vinyl Pint Night. Not only does Vinyl Pint Night offer great beer, music, and pizza, but Pizza Tugos hosts burger night every Tuesday, too. Our Tugos Burgers are half priced so if you're looking for a tasty, juicy burger, ours will definitely satisfy your taste buds!
If you're looking for something else other than pizza and burgers, we offer a variety of menu items including salads, pasta, wings, and so much more! If you're not feeling up to visiting for VPN we still offer a carry out menu and delivery menu. So, don't worry if you can't come to Pizza Tugos, we'll bring Pizza Tugos to you! Although, you have to dine in to take part in our great specials (so that's a plus!). Pizza Tugos offers some of the best pizza in Ocean City and we have three different locations so you don't have to travel that far to get a slice of life.