Valentine's Day Takeout in OCMD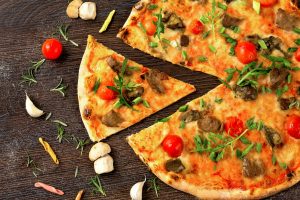 Are you planning a COVID-19-friendly Valentine's Day with your special someone, but are unsure of where to find the best takeout? There's no better option than Pizza Tugos in Ocean City, Maryland. When you're looking for the best takeout on the shore, Pizza Tugos has you covered! Whether you're in the mood for a bite of cheesy deliciousness, wings, or even pasta, there's something for everyone at Ocean City's original pizza delivery service. 
COVID-19 has changed many aspects of our everyday life, don't let it put a damper on your special Valentine's Day plans! This year, treat your loved one to a safe and special date-night in, with some tips from the team at Pizza Tugos! 
Valentine's Day Date Night at Home
Order Your Dinner To Go from Pizza Tugos
Who doesn't love some Italian food for dinner? Enjoy your date night in and order takeout, or delivery from Pizza Tugos. Choose your favorite craft pizza like The Godfather, or a buffalo chicken pizza. Or, choose from delicious entrees, salads, sandwiches, calzones, and more! 
Pick Up Chocolate from Dolles
Take your Valentine's Day treats to the next level with local chocolates and candies from Dolle's Candyland. Just minutes away from our West Ocean City Taproom, Dolle's is the perfect place to pick up specialty homemade treats for the one that you love. 
Choose a Movie on Netflix or Hulu 
What date night in would be complete without something on TV? Choose your partner's favorite movie, or, watch something new while you enjoy your time spent together, safely at home. 
What are you waiting for? Plan your perfect Valentine's Day in, and Order Online to enjoy Fast and Free Delivery when you Carry-Out with the Best Pizza in Ocean City, Pizza Tugos.