Upcoming Vinyl Pint Nights | Ocean City, MD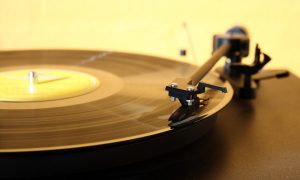 Here at Pizza Tugos in Ocean City, MD anything is possible! That's why we have some exciting upcoming breweries for our Vinyl Pint Nights on Tuesdays! If you haven't had a chance to visit us yet this year, no worries at all! The party's just getting started! We always want our guests to enjoy themselves when they stop in for food and drinks at Pizza Tugos in OCMD so what better way to have a little fun than enjoying some classic vinyl music while enjoying a hot, fresh slice of pizza paired with an ice cold beer?!
We have planned our pint nights for the next few weeks so get ready for a relaxed yet fun experience! Tuesday, July 18th stop in for a taste of Sierra Nevada's Craft Beer. Sierra Nevada Brewery was born all the way back in the 70s and in 1976 they opened their very own taproom in Mills Creek, North Carolina! They have a passion for the flavor of their beer so be sure to visit Pizza Tugos to get a taste of deliciousness! For more information, visit their site here.
If you can't make it on the 18th we still have plenty of great featured beers from various breweries. On July 25th enjoy local craft beer from Rubber Soul located in Salisbury, MD! They offer various beers from IPAs to stouts and even porters. Rubber Soul was co-founded by Jesse Prall who has been in the brewing business for over 10 years! Mark your calendars for this wonderful Pint Night experience! For more information visit their site here.
Another Pint Night we have scheduled at Pizza Tugos in Ocean City, MD is (drum roll please) DOGFISH HEAD! On August 1st, Pizza Tugos will feature Dogfish Head Brewery beer for an ice cold refreshment! Some of you may know that Dogfish Head Brewery is pretty popular throughout the Delmarva region. Since 1995 they have been a fan favorite among beer lovers. So we encourage you to visit us for Vinyl Pint Night to enjoy featured beer from Dogfish Head Brewery! For more information, visit their site here.
Lastly but not least on August 8th, Calvert Brewing is featuring their beer at Pizza Tugos for Vinyl Pint Night! Did you know Calvert Brewing is Maryland's first ever farm brewery? Located in Prince George's County, MD Calvert Brewing crafts plenty of beer to satisfy anyone's taste buds! Never tried their beer? This gives you a reason to visit Pizza Tugos! For more information visit their website here.
If you are unable to attend the pint nights listed above, don't fret! We are sure to provide plenty more pint nights for the year of 2017! We hope to see you soon!