Today's addition to the Best Craft Beer List in Ocean City!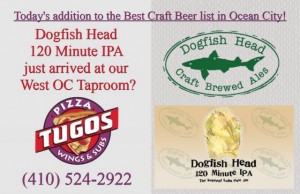 We know you love it and it just arrived!
Dogfish Head 120 Minute IPA has arrived at Pizza Tugos Taproom in West Ocean City. This is one of the hottest beers in Ocean City and we have it right here for you just in time for the White Marlin Open and Shark Week!
Pizza Tugos Taproom has the best selection of Craft Beer in Ocean City!