Things to Do on a Snowy Day in Ocean City, MD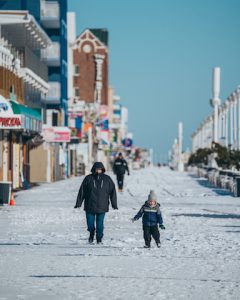 Winter is in full force here in Ocean City, MD and with all of these snowy days, you might be looking for things to do to keep busy. Although our beach town might not have the same hustle and bustle of the summer season, there's still plenty of fun that you don't want to miss!
At Pizza Tugos, we love snow days! Check out some of our favorite Ocean City, MD activities to do when it snows in town.
Winter Activities in OCMD
Go to the Movies
Just outside of town in West Ocean City, and close by to our Pizza Tugos Taproom is Flagship Premium Cinemas—the best movie theater around! With so many great movies out in theaters, grab your family and friends to spend some time watching a movie and relaxing in the plush power reclining seats. 
Have a Shopping Spree
West Ocean City is home to the best outlets on the Eastern Shore. Visit the Ocean City Outlets for savings on your favorite name brands and treat yourself to a shopping spree on a cold and snowy day. There are also several boutiques nearby with unique and trendy items to shop for.
Order a Pizza
You don't even have to leave your house to get your favorite menu items delivered from Pizza Tugos! Our fast and free 30-minute delivery will give you the perfect dinner for your cozy night in. Order a pizza for the whole family, or other favorite items like our wings, and subs. View the carry-out/delivery menu and order online for a delicious dinner delivered right to your door!
Visit Pizza Tugos Taproom
Spend your snowy day with us at our West Ocean City Taproom location for delicious meals, flat screens TVs to watch your favorite sports, and a large selection of local and national craft beer. Show off your skills and stop by on Wednesday nights for Karaoke Night from 8-11 PM. Or, if you prefer to listen to music, sip and eat on Friday nights with our incredibly talented live music lineup for February and March!
Snowing or not, if you're looking for a delicious meal, order Pizza Tugos online for delivery or stop by to enjoy a craft beer and a good time with live music and karaoke. Pizza Tugos is proud to be Ocean City's original pizza delivery since 1983 and we're not stopping anytime soon!