Things to Do in OCMD When It Rains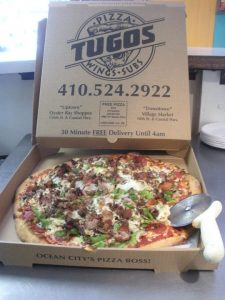 Are you looking for things to do in OCMD when it rains? Well, you're in luck! The local experts here at Pizza Tugos know how to have a great time in Ocean City, even when the sun's not shining.
Your rainy day wouldn't be complete without your favorite foods! Order a delicious pizza from Pizza Tugos with all of your favorite toppings. Veggie, meat, seafood, extra cheese – whatever your heart (and stomach) desires, we've got it! If you're staying in, Pizza Tugos will be there with FREE 30 minute delivery. Check out our carryout and delivery menu here! 
Mini golf is a fun event for all ages and a great way to spend your rainy day! After you've fueled up with your pizza, head on over to Old Pro Golf on 68th Street for the Undersea Indoor Adventure course or the Safari Village Indoor Course at Old Pro Golf on 136th Street.
Have you been to the Pizza Tugos Taproom in West Ocean City? Serving craft beer from the best breweries all over the nation, our beer selection will not disappoint. Order some of our famous wings to share (or for yourself, we don't judge), the craft beer of your choice, and dig in! 
Rainy days don't have to be gloomy! Pizza Tugos is here for you with three convenient locations uptown, midtown, and in West OC. And remember, you can always order online for fast and free delivery of the best pizza in Ocean City, MD!