The Ultimate Pizza For Ultimate Frisbee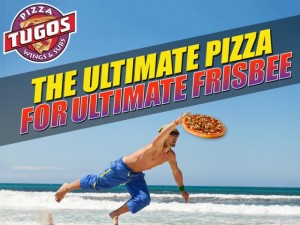 Last weekend was admittedly a little chilly and cloudy for our liking, but this weekend's forecast is calling for nothing but clear skies, sunshine, and temperatures averaging in the mid-80s. Shortly stated, it's looking like a perfect beach weekend here in OCMD…and just in time for the annual OC Beach Ultimate Frisbee Tournament!
The tournament will be held Saturday, August 15 and Sunday, August 16 from 9am until 5pm on the beach at Somerset Street in downtown Ocean City, with a special showcase game at 6pm on Saturday evening. Over 30 teams will compete in the Elite or Open divisions over the weekend, vying for the championship title. Spectators will have the chance to set up along the sidelines to watch the fun all weekend-long. It's the perfect chance to enjoy the beautiful weather before summer winds down.
Of course we love any excuse to sit outside with friends while enjoying carryout from Tugos. In fact, did you know that you can order carry-out online? It's that simple! What's more, your carry-out will be ready in just ten minutes. Order and pick up your favorite Tugos items, head to downtown Ocean City, and enjoy an afternoon of free entertainment on the beach! And for the competing teams, stop in after the tournament to fuel up on pizza, subs, appetizers, salads and more. Our West OC location is just a short drive from the beach and boasts 300 seats – perfect for big groups. Is it the weekend yet?!