That's Right…It's Pint Night!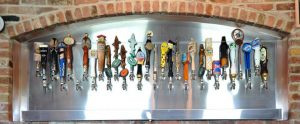 Nothing is more refreshing than enjoying some ice cold craft beer with friends after a long, hard day… especially when it's hot out! Mark your calendar because every Tuesday night is Pint Night here at Pizza Tugos!
Round up your friends and come enjoy beer from a different brewery each week. The current summer pint night schedule is as follows:
July 3rd- Sierra
July 10th- Sam Adams
July 17th- Bells
July 24th- Keys
July 31st- Rubber Soul
August 7th- Fin City
Pizza & pints will have you feeling good all night! If you're looking to spice things up a bit, try one of our craft pizzas or our craft burgers. With 7 different craft pizza options and 10 different craft burgers, we've got a lot of amazing FLAVOR cooking up in here! Our pizza is definitely something to talk about it. Cheesy, mouth-watering, addictive..all great words to describe it! We're Ocean City's Pizza Boss…would you really expect anything less? We have a lot more than just pizza and burgers on our menu. From subs to salads to big plates and so much more, there's no question we have lots of variety.
We're serving up great brews & a great time here in no other than a great atmosphere. Dine inside or chill out at our rooftop tiki bar at our West Ocean City location with a pint of beer and a slice of pie in hand. We have a game room too so check it out if you're looking for some extra fun. You don't want to miss out on all that is happening here at Pizza Tugos! Make your way over for Tuesday Pint Nights!
And don't forget, if you ever get a late night craving like we all do from time to time, our West Ocean City location delivers until 2 AM & our locations in town until 4 AM. Give us a call or order online. We've been delivering since 1983 and have fast, free delivery!