Take a Black Friday Lunch Break at Pizza Tugos!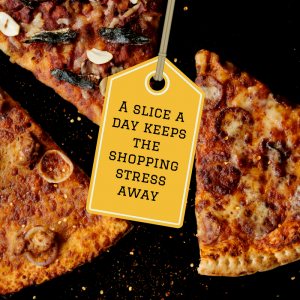 With the holidays coming up, a lot of shopping is at the top of your to-do list. Black Friday and Small Business Saturday is right around the corner. If you are looking for places to eat in Ocean City while you take a break from your spending spree, Pizza Tugos is the place to be! You might feel pretty exhausted after you shop 'til you drop, but we have the perfect medication: pizza and beer! Stop in for a simple and delicious afternoon lunch at Pizza Tugos in Ocean City, Maryland to take a load off. Not only do we have delicious pizza but we have a variety of craft beer to choose from. Who doesn't love sipping on a beer at 2 in the afternoon?
Do you want to know what's also great about Pizza Tugos? We are located right across the street from the outlets in West OCMD! How convenient is that?! Don't stress yourself out by deciding where to eat on your shopping break, because Pizza Tugos is the place to eat. If you want something different than your classic Pepperoni pizza look no further, Pizza Tugos has the best selection of craft pizzas to choose from.  If you're not in the mood for pizza don't fret! We have other tasty menu items that are to die for including burgers, calzones, subs, and even a variety of appetizers. For the healthy eaters out there, Pizza Tugos offers six different salads like the Popeye N' Olive Oyl, Antipasto, and Cobb salad, along with three classic salads including the Garden, Spinach, and Caesar.
In addition to our West Ocean City location, we also have a Pizza Tugos located on 18th street and right before 118th street bay side. Visiting Pizza Tugos is a no-brainer when it comes to pizza. Stop in, relax, and take a break from your shopping and get the perfect food to refuel you for the rest of the holiday season!