Sunfest and AUCE NFL Special at Pizza Tugos!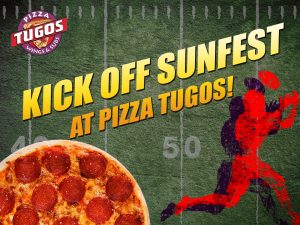 Summer has officially come to an end which means Ocean City's Sunfest is just around the corner! From September 22nd through the 25th, Sunfest will host events such as arts and crafts, hayrides, and activities for the kids. Big music stars including Chubby Checker & The Wildcats, Chris Janson, and Eddie Money will be performing, so be sure to purchase your tickets from ococean.com/sunfest. Admission into Sunfest is free and all activities are held in the Inlet Lot right by the Ocean City boardwalk.  From Thursday to Saturday events will go from 10am – 10pm and Sunday from 10am – 6pm. Summer may have ended but the fun is just beginning at Ocean City's best festival!
Fuel up for all the amazing events Sunfest has to offer with Pizza Tugos! Speaking of fueling up, nothing is more filling than our NFL All-You-Can-Eat special! We're enjoying another fantastic weekend of football, including college games all day Saturday and NFL games Thursday night, all day Sunday, and Monday night. For all of our NFL games, enjoy AUCE pizza and wings for just $9.99. Take a look at this week's football schedule and schedule your own visit to Pizza Tugos for great food, good people, and fun times!
Thursday, September 22nd
Texans vs. Patriots @ 8:25pm
Sunday, September 25th
Cardinals vs. Bills @ 1:00pm
Raiders vs. Titans @ 1:00pm
Browns vs. Dolphins @ 1:00pm
Ravens vs. Jaguars @ 1:00pm
Lions vs. Packers @ 1:00pm
Broncos vs. Bengals @ 1:00pm
Vikings vs. Panthers @ 1:00pm
Redskins vs. Giants @ 1:00pm
Rams vs. Buccaneers @ 4:05pm
49ers vs. Seahawks @ 4:05pm
Jets vs. Chiefs @ 4:25pm
Chargers vs. Colts @ 4:25pm
Steelers vs. Eagles @ 4:25pm
Bears vs. Cowboys @ 8:30pm
Monday, September 26th
Falcons vs. Saints @ 8:30pm