Summer Rolls into Town at Pizza Tugos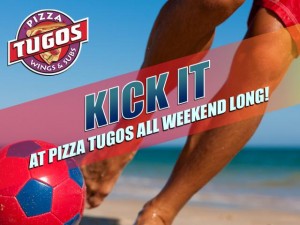 Sunday marks the first day of summer, but here in Ocean City it's been feeling like summer for the past few weeks with large crowds, hot (really hot) temperatures, and the return of some of our favorite summertime events. Last weekend, the beaches and boardwalk were overflowing with people eager to get a glimpse of the OC Air Show. Next week, Maryland Firefighters will roll into town for the Maryland State Firemen's Association Convention. And in just two short weeks, we will all collectively join in the Fourth of July celebrations! Phew that's a lot happening in and around Ocean City.
This weekend, families will gather at the beaches downtown (Dorchester Street) for the annual Beach 5 Sand Soccer Tournament! We encourage all of the Beach 5 Sand Soccer Tournament participants and spectators to join us after their games for pizza, subs, pasta, appetizers and more! Refuel, recharge, and get back out there! Or stop in for carry-out from any of our locations and enjoy a bite to eat on the beach while enjoying the competitive fun and excitement of the tournament.
Sunday, we're calling all dads! With a massive selection of craft beers on tap, countless flat screen HDTVs, and a massive menu selection, Pizza Tugos is the perfect place to bring your deserving dad for Father's Day. After all, what dad doesn't enjoy a quality beer paired with a slice of the area's best pizza?!
Happy Father's Day! And good luck to all of the tournament players!