Stop in Pizza Tugos Saturday for all your Post-Parade Fun!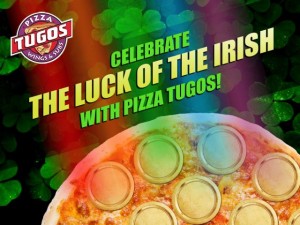 "May your heart be light and happy, may your smile be big and wide, and may your pockets always have a coin or two inside"
At Pizza Tugos, we're feeling the luck of the Irish all weekend long, as the annual St. Patrick's Day Parade marches through Ocean City. If you've never been in Ocean City for the St. Paddy's Day festivities, then you are certainly missing out. We're going to look past the rainy forecast for Saturday and hope that the show will go on. The parade marches from 58th Street south to 45th Street and starts at 11am.
After the parade, we suggest bringing the whole family in to Pizza Tugos to refuel on pizza, subs, appetizers, pasta and more. We won't be serving up green beer, but you can guarantee we will be pouring all of your favorite craft beers in the Tap Room. Running in the annual St. Pats 5K Run in OCMD? Even better! Stop in for a carb overload! And for those of you who maintain the 'go big or go home' mentality when it comes to St. Patrick's Day festivities, we especially encourage you to stop in to show off your finest St. Paddy's Day gear…and to load up on plenty of food to keep you going all day and night.
Erin go bragh!