St. Patrick's Day at Pizza Tugos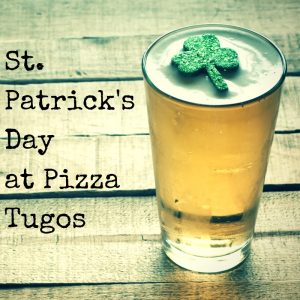 The luck of the Irish is celebrated among many lads and lassies of the Celtic descent. Regardless if you have a little Irish in you or you are 100% Irish, it is well worth it to celebrate St. Patrick's Day in Ocean City, MD! There are many festivities in store for the green-clad holiday. From the St. Patrick's Day Parade on Coastal Highway, to Seacrets' Irie-ish Music Festival and even the St. Patty's Day Boardwalk 5k at Shenanigan's Irish Pub, you are bound to find a way to celebrate!
Want to know what Pizza Tugos and the Irish have in common? We love our craft beer! Pizza Tugos in OCMD has three convenient locations if you are looking to celebrate St. Patrick's Day with us! In our West OC location, we have a wide selection of 75 craft beers that will leave you indecisive. From stouts to lagers and even IPAs, we want to make sure we provide our customers with the best beer selection in the OCMD area.
We may not have corned beef and cabbage, but what we do have is cheesy, tasty, and mouthwatering pizza that is to die for. We have a wide variety of pizzas to choose from here at Pizza Tugos that will have you coming back for more. We offer a cheeseburger pizza, the meat pizza and a veggie pizza for all you vegetable enthusiasts out there.
The great thing about Pizza Tugos is we have three different locations, making it easy for you to visit! We have restaurants located on 116th Street, 18th Street and in West Ocean City. So regardless if you live in Berlin, Bethany Beach or in the heart of our favorite beach town, you have easy access to one of the best pizza places in OCMD. So put your green faces on and come out to celebrate St. Patrick's Day with us!