Spend your September in OCMD!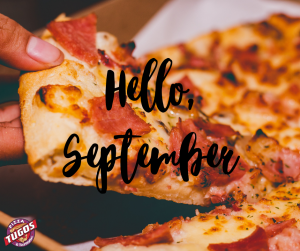 If there's one thing that locals and vacationers in Ocean City, Maryland can agree on, it's that summertime is just a state of mind! September is just as busy as the other summer months here in Ocean City as we all try to hold on to the very last bits of warm weather and sunshine as long as possible! With a line up of exciting events throughout the month, visit your favorite pizza joint in OC to keep your bellies as full as your agenda!
OC Bikefest
Shine up your hog and come out to ride because Bikefest is back on September 12-15th! OC Bikefest is the perfect time to flex your riding skills and sneak in a long weekend at the beach! This four-day event is jam-packed with nonstop live entertainment, fun, and riding! Take the scenic route and ride up to our location on 116th Street to grab a slice of your favorite pizza our our legendary Burnin' Love burger!
Sunfest
Sunfest is back in Ocean City, Maryland for its 45th year of fun in the sun, bringing vendors and visitors from around the country together to celebrate the town's biggest and best festival! This year Sunfest will be held from September 19th through the 22nd and as always, is a legendary combination of live music and awesome vendors selling artisan products and handmade crafts! Located in the Inlet parking lot, admission is free saving you plenty of money to stop by any of our three Pizza Tugo locations and fill up on one of our specialty craft pizzas!
NFL Insanity!
With all of these awesome events going on, don't forget that football is back! This means that The Taproom at Pizza Tugos is bringing back NFL Insanity! For just $10.99 fill up on your favorite all-you-can-eat cheese pizza and wings during any game of the season! Watch your favorite NFL team on one of our many flat screens throughout the restaurant, and quench your thirst with $2 Lite and Yuengling drafts! 
No matter how you choose to spend September, make Pizza Tugos part of your plans!