Spectacular Specials at Pizza Tugos in Ocean City, MD!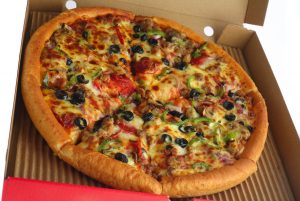 Carryout special alert! Are you in a rush and just don't have time to make dinner or dine out? Are you possibly craving Pizza Tugos but do not feel like leaving your house? If you are looking for food that tastes amazing and is ready right away, this special will be exactly what you are looking for!
We are running a carry out special of $4.00 off when you order any two extra large pizzas! And who doesn't love pizza?! This is a deal you won't want to pass up! Treat yourself and add on some toppings to spice it up a bit. We have an array of toppings including a large selection of meats, veggies, and dippers! Sounds pretty amazing, doesn't it?
Check out some of the other items on our carry out menu, as well! Nothing pairs up better with pizza than breadstix with cheese! Also, we offer many sauce choices when it comes to our wings tugo including hot, extra hot, bbq, old bay, garlic parmesan, sweet thai chili, mango habeñero, and sweet teriyaki! They will surely pair well with your pizza. And, of course, you can't forget the sides! Pizza Tugos offers plenty of sides that will go great with your meal! If you are looking for something with a little kick to it try our jalapeno poppers. You will not be disappointed!
If you are on the hunt for something a bit more on the healthier side, we have options for that, too! Try one of our unique Salads Tugo, it'll be fantastic! We offer Popeye n' olive oyl, antipasto, cobb, caesar, chef, and garden salad. You can't go wrong with these! And of course we offer an extensive list of dressing choices.
Stop by or call in to Pizza Tugos in Ocean City, MD today and get $4.00 off when you order any two extra large pizzas for carryout! Our spectacular special is sure to make you smile!