Ride into Tugos for a Post-Race Recharge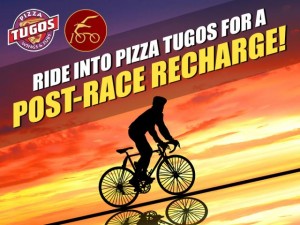 Seagull Century returns to the Eastern Shore this Saturday, September 27, bringing upwards of 6,000 cyclists and their families to our area for the 26th anniversary of the Delmarva event. If you haven't heard of Seagull Century before, it's a major staple on the Eastern Shore with thousands of bikers training for weeks ahead of time for the epic race. Riders have two options, either the 100-mile or the 62-mile route, each of which leads them across Delmarva and through our area towns and countryside. We don't know about you guys but cycling that far just makes us want to dig into a piece of pizza, house a sub, or at the very least, enjoy an appetizer or two while sipping a frosty beverage. In celebration of Seagull Century, we encourage all the riders to stop in this weekend for a carb overload or a celebratory drink (craft beer anyone?!?). Friends and family who aren't participating needn't feel left out – we've got family –friendly options, a full bar, ample seating, and plenty of flat screen TVs. Cold beer, pizza, snacks…what more could you want from a post-race celebration??
Whether you're in town for the Seagull Century, enjoying a weekend getaway, or simply a local looking for an excuse to get out of the house, we've got your football needs covered here at Pizza Tugos. It's Week 4 of NFL regular season and we've seen a steady flow of excitement so far this season. Pair that with our All-You-Can-Eat pizza and wing special (just $9.99 during all NFL games) and you've got yourself a veritable NFL headquarters. This week's lineup looks fierce and will undoubtedly call for a few cold ones and an extra helping of pizza and wings. See you all there!
Week 4 Schedule:
Thursday, September 25th
Redskins vs. Giants @ 8:25pm
Sunday, September 28th
Ravens vs. Panthers @ 1:00pm
Steelers vs. Buccaneers @ 1:00pm
Eagles vs. 49ers @ 4:25pm
Falcons vs. Vikings @ 4:25pm
Saints vs. Cowboys @ 8:30pm
Monday, September 29th
Patriots vs. Chiefs @ 8:30pm