Restaurants With Carry Out in OCMD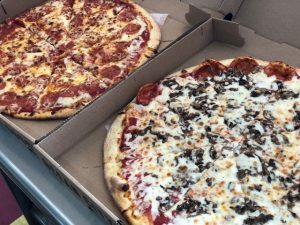 As fall approaches and the weather starts getting chilly, you're probably spending more time cuddled up at home and not going out as much. At Pizza Tugos, we're all for it! That's why our store was the first fast and free pizza delivery shop around.
Everyone deserves to sit back and have a delicious meal prepared for them. Whether you want to dine with us, have your food delivered, or carry out your order, choose Pizza Tugos for quality ingredients and tasty meals you can count on!
Best Pizza in Ocean City, MD
Since 1983, our pizza has been enjoyed by thousands of visitors coming to Ocean City, MD, and is a staple for the locals nearby. Our traditional pizzas never disappoint with the freshest ingredients and reasonable prices that won't break the bank. 
If you're feeling adventurous, our craft pizza options are favorites amongst our customers. Try The Godfather topped with pepperoni, sausage, ham, ground beef, bacon, green peppers, onion, mushroom, and extra cheese. Or try our Buffalo Chicken craft pizza with chicken, hot sauce, blue cheese, cheese, and ranch of course. 
Looking for something other than pizza? Pizza Tugos also offers the best subs, wings, and entrees like our baked ziti and spaghetti. Your kiddos have entrees made just for them to choose from like mozzarella sticks, chicken fingers and fries, and kid-sized spaghetti or pizza.
Which options for every member of the family, you're all set for dinner! Check out Pizza Tugo's carry-out menu and order online for pickup or delivery.