Restaurants Near Winterfest of Lights 2020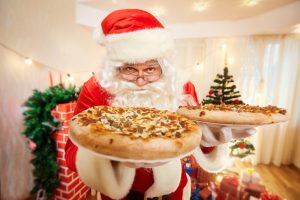 Are you visiting Ocean City for Winterfest and looking for a restaurant nearby? Pizza Tugo's has you covered! Enjoy the best pizza in Ocean City, Maryland at Pizza Tugo's on 116th St., located less than 5 minutes away from Winterfest of Lights in Northside Park on 125th St. and the Bay! 
Winterfest of Lights 2020
Northside Park is Ocean City's largest, and most popular park in town which is why year after year, Winterfest of Lights is hosted there for families to enjoy their annual Christmas traditions! This year, Winterfest of Lights is celebrating their 27th year, with some new updates to be sure that guests experience a fun and safe holiday tradition. 
This year, park-goers can expect a ½ mile-long walking trail around the lagoons on the south ended of the park. Visitors will be allowed to circle that loop as many times as they'd like as they enjoy the holiday lights and decor. 
Want to grab a meal before or after you enjoy the lights? Pizza Tugo's is one of the best restaurants near Northside Park and is the perfect spot to bring the kids, or the entire family, family for a slice of the best pizza in OCMD. 
Carry Out Pizza in OCMD
Did you visit Winterfest and ready to order some carry-out? At Pizza Tugos, we pride ourselves on being the best pizza delivery service in Ocean City, and West Ocean City. With three locations spread throughout our favorite beach town, you're guaranteed to get your order fast and fresh. In town and want to pick up your meal? No problem, your order will be hot and ready for you when you arrive! 
So, what are you waiting for? The 27th Annual Winterfest of Lights is open until January 2nd for you and your family to enjoy. Visit any of our three locations at Pizza Tugo's for the Best Pizza in Ocean City today!