Red, White, Blue…and Pizza!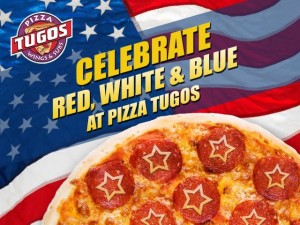 4th of July is the quintessential summer holiday, especially when you live in a resort town that offers fireworks right over the beautiful beach, boardwalk and bay. We love 4th of July for so many reasons here at Tugos, most notably because the patriotic holiday gives us a reason to celebrate in our finest red, white and blue. The holiday weekend is also ideal for BBQs and family gatherings, which in our humble opinion is made better with the addition of some of our famous wings, appetizers, subs, and of course, pizza! Make your holiday weekend a little less stressful by opting for carry-out from any of our Tugos locations. Skip the crowds and order ahead online or by phone and pick up your festive feast to enjoy at home, on the boat, or on the beach. It's that easy.
Wondering what's happening in and around Ocean City for the 4th of July? Fireworks of course! The Town of Ocean City will be lighting up the skies on the north and south ends of town, starting at 9:30. On the north end, fireworks displays will take place at Northside Park. On the southern end of town, head to the boardwalk to see the fireworks over the ocean off of North Division Street. And if you're lucky enough to nab a spot on a boat, it's one of the best ways to view the fireworks from either end of town. Stuck in traffic and don't feel like heading into OC at all? We've got you covered there too. Stop in to the Tugos Tap House in West OC and enjoy stress-free dinner and drinks at our newest addition, the rooftop tiki bar!
Happy 4th of July everyone!