Randall the Enamel Animal Steals the Show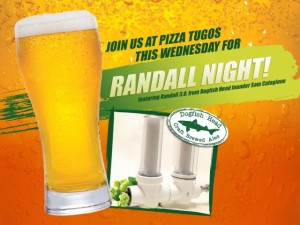 He's baaaaack! That's right; the Randall is taking over tonight and every other Wednesday night in the Tap Room at Pizza Tugos in West Ocean City. So what is a Randall you ask? Scientifically speaking, it's an "organoleptic hop transducer module" designed by the masterminds at Dogfish Head. For the rest of us regular, beer drinking folk, it's a double chamber filter that essentially connects the beer of your choice with flavor-enhancing ingredients. Fruit, spices, herbs…you name it and Randall will infuse your brew with the natural flavors of your liking. You may remember earlier this year when we combined Evolution Craft Brewing Summer Session with oranges, or when we played around with Fin City's White Marlin Pale Ale with citra, juniper berry and grapefruit. The outcome? Flavor-enhanced craft brews. Doesn't get much better than that!
If you can't make it to Tugos tonight, have no fear, there's plenty to celebrate this weekend, including more pre-season football! Big games this week include:
Eagles vs Patriots; Friday @ 7:30
Ravens vs Cowboys; Saturday @ 7
Bills vs Steelers; Saturday @ 7:30
Browns vs Redskins; Monday @ 8
See you all tonight, and every other Wednesday for Randall Night and mark your calendars for September 4th for the official start of football season!