Places to Watch Football in Ocean City, MD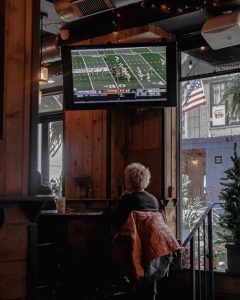 Football season is the best time of year, especially in Ocean City, MD. With fans from all over the map, we have a generous amount of sports bars so you can watch your favorite team win! Everyone knows it is way more fun to watch the game at Pizza Tugos, with drink and food service surrounded by similar fans. The atmosphere is unmatched! 
Picture this—you have a tall cold beer in your hand, a large hot pizza in front of you, and your favorite team is winning on the big screen. Nothing sounds better than that! At Pizza Tugos, we can guarantee the beer will be cold and just the smell of our pizza will warm you up! 
Best Sports Bars in OCMD
Pizza Tugos Taproom brings the energy when it comes to sports bars in OCMD, full of HD TV's so you can stay updated on all your favorite players and teams. Our menu has the perfect selection of football food—wings with a variety of sauces, fresh baked pizza, and a collection of delicious appetizers, you'll want to get it all! Our food menu is sure to keep you fully satisfied, but our craft beers on tap are what really make your football-watching experience special. With ales, IPAs lagers, and lights, you're sure to find your new winter beverage of choice. 
If you prefer to watch the games in the comfort of your own home, no worries. Let Pizza Tugos take care of your football feast with our tugo menu or delivery service. Having a group over to watch your team dominate? Order Pizza Tugos 50-count wings and large pizzas to fill your guests. 
Pizza Tugos has three locations making it convenient for you to watch the game and enjoy your snacks wherever you're located. Check out our uptown location on 116th street, with a full bar and plenty of room to hang out! Our 18th street location is perfect for carry-out and delivery services. And finally, our Taproom in West Ocean City with a full bar and a great atmosphere! Be sure to visit all of our locations and wear your favorite team's attire. 
Plan your ideal football Sunday. Come in and see us at any of our locations, or order online for pick up or delivery! We can't wait to see you!