Pizza Tugos: The Place to Catch the Playoffs!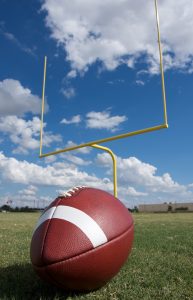 Football season is one of our favorite times of the year! Unfortunately, it is coming to an end with the last playoff games of the season taking place this weekend. The Jaguars will face the Patriots at 3:05 p.m. and the Vikings against the Eagles at 6:40 p.m this Sunday, January 21st. With so many flat screen TV's at Pizza Tugos, you'll be surrounded by the game! We've said it before and we'll say it again that the perfect football trio is pizza, wings, and beer! And there's no better place to find those things than at Pizza Tugos.
The best way to enjoy the conference championships is to round up a group of friends and stop on in for one of our crazy-good pizzas and an order of wings! Our menu features many different pizza selections, including seven fantastic and surely unique craft pizzas that you can't find just anywhere. Our wing selections are mild, hot, extra hot, BBQ, Old Bay, Garlic Parmesan, Sweet Thai Chili, Mango Habanero, or Sweet Teriyaki. And nothing pairs better with our delicious pizza and wings than our craft beer selections! Our craft beer menu is constantly changing and we're always bringing the newest and niftiest beers in for you to try! And did we mention that many of them are from local breweries? You'll feel like you're in heaven here with the ultimate trio: pizza, wings, and beer!
Our specialty at Pizza Tugos is without a doubt Pizza; however, we have grown and expanded today to include much much more than just pizza. With a full menu of appetizing options, you will surely find something that will please your taste buds. There truly is something here for everyone at Pizza Tugos. Nothing beats great friends, great food, and great football. We hope you come out to Pizza Tugos to enjoy the last playoff games of the season with us!