Pizza Tugos, The Perfect Hangout!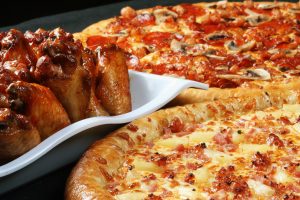 If you're looking to meet up with a friend for some drinks and a great bite to eat, Pizza Tugos is the place to go! Our craft beer menu is insane, and in a good way! Our menu is HUGE! What's not to love? Nothing says friendship like sharing a cheesy, yummy pizza, tasty drinks, and good times. Next time you and your friends are indecisive about where to go for the best drinks and food around, Pizza Tugos is hands down where you need to be.
Pizza Tugos' specialty of course is none other than pizza! We take pizza to the next level with our craft pizzas. If you have never tried one, it's time! Our menu includes seven craft pizzas, each of which is unique and exquisite and hot and fresh right out of the oven. And we for sure love some cheesy deliciousness. Be sure to check out our Little Plates menu, too, while you're at it. There are over a dozen wonderful selections from crab dip to egg rolls to mozzarella sticks to chicken tenders. With all of these fantastic options, it can be hard to choose just one, so don't feel bad treating yourself to more to another little plate!
When it comes to drinks, you will find an abundance of options as well. Whether you enjoy a good craft beer, a nice cocktail, or a glass of white or red, we have something here for you. Not only do we have lots and lots of craft beer options, but we are always bringing in new amazing beers as well. And of course we only serve craft beer on tap from the best breweries around!
Pizza Tugos is the perfect hangout to enjoy the most excellent drinks and food with friends, family, co-workers, and really anyone! So swing on by to a Pizza Tugos near you for an awesome experience.