Pizza Tugos, Ocean City's Pizza Boss for the past 30 years!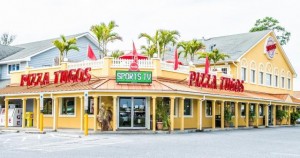 Way back in the dark ages (1983 to be exact), pizza just was not delivered. Mr. Tugo thought it would be really cool to have pizza (and eventually other foods) delivered. Taking out a small loan against his pride and joy car, (1978 AMC AMX) he bought an existing hole in the wall pizza shop, cleaned it up (much), added his own special recipes (the very ones he still uses today), added delivery (not free at the time), changed the name, and voila, PIZZA TUGOS was born.
Growing from one store to six stores, Mr. Tugo decide bigger is not always better. He refocused his considerable energy on his young new family and the Ocean City stores. Releasing a wealth of ideas and some pent up energy, he rewrote the playbook on PIZZA TUGOS in 2011. Opening his most adventurous creation to date, the Flagship Pizza Tugos "Taproom" with 300 seats, 54 craft draft beers, several mega large screen Hi-Def TVs, classic rock, dough for the kids, private party space, and of course that pizza he is famous for. This newest location is his vision of how Pizza Tugos will look in the 21st Century. Pizza Tugos pizza is still only available at only three locations in the entire world!
Today, Mr. Tugo still does things as when he started, refusing to compromise his quality, he makes his dough daily, locally. He shreds his own cheese using his own special blend of 100% low-fat mozzarella and provolone. He still personally mixes the secret sauce that has helped make Pizza Tugos famous. Mr. Tugo still works hard to ensure that things are done to his high standards, he believes he has…
THE BEST PIZZA IN TOWN!
We hope you think so too!
Have a fantastic day!!
Mr. Tugo and crew