Pizza Tugos Has It All!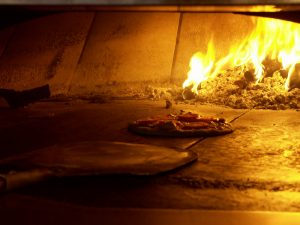 In case you've never been, just know that Pizza Tugos in Ocean City, MD has so much to offer! A marvelous, MASSIVE food and drink menu, an outstanding atmosphere, and a spectacular staff are just a few things that make Pizza Tugos so great! Not only do we have three separate locations, but we also offer free delivery and online ordering! We've got the whole package! We strive to make your experience with us as convenient and enjoyable as possible!
It's no secret that Pizza Tugos has been well-known for fantastic pizza and other menu offerings. Add on ALL of the pizza toppings that your heart desires with the choices that we have to offer! There is no doubt you will love the cheesy deliciousness! Our locations are spread out throughout town so no matter where you are in OCMD, you're never more than a few miles away from Pizza Tugos! Our West Ocean City location offers a fun-filled Tiki Bar with plenty of seating for large parties! We also have more than enough TVs, perfect for you to watch your favorite sporting events. And, what goes better with pizza than beer? Nothing! Our large selection of craft beers are the perfect accompaniment for our amazing pizzas.
We can't forget about our night owls! If it's late at night and you don't feel like leaving your place, we deliver! Our delivery services are available until 4 a.m. and Pizza Tugos makes the best midnight snack! Who doesn't love a delicious pizza and movie night in? You could even request delivery for an end of summer pool party! And not only is our delivery free, but we'll be there within 30 minutes! You can't beat that! We also have the option for you to order online. Perfect for those who don't enjoy talking on the phone! A quick and hassle-free way to order in a matter of just minutes.
As the title reads, Pizza Tugos really does have it all! A fun and unique atmosphere, amazing food and drinks, and spectacular service are all things you will find here at Pizza Tugos! So stop in or order carry out today!