Pizza Tugos Football Season Special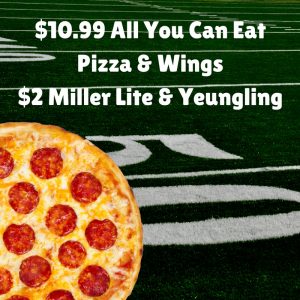 There are many traditions when it comes to football season: wearing your favorite team jersey, eating tons of finger food, and enjoying various libations. If you love doing all of those things, Pizza Tugos' Football Special offers a variety of good deals that you will not want to miss during the Football season. If you live, breathe, and eat football, Pizza Tugos is definitely the place to be!
At Pizza Tugos in Ocean City, Maryland, during any football game, you can enjoy ALL YOU CAN EAT Pizza and Wings for only $10.99 with $2 Miller Lite and Yuengling beers. It's as good as scoring your first touch down! If Miller Lite or Yuengling doesn't satisfy your taste buds, Pizza Tugos offers a great variety of craft beer including IPAs, Stouts, Lagers and so much more! Only because we are proud to name drop, here are a few of the options available on tap right now: Dogfish Head, Ballast Point, Heavy Seas and Fin City (just to name a few). There are so many options it will make it hard to choose!
Regardless if you're an Eagles, Ravens, Giants, Redskins, or even Steelers fan you can get the All-You-Can-Eat deal during any game day. We don't choose teams, we'd rather choose the pizza toppings. Whether it's a Sunday afternoon game, a Thursday game or a Monday night football game, Pizza Tugos' NFL package offers all of them on our 75 inch HD TVs so you can watch all of your favorite teams at once!
So get your game faces on, do whatever it takes, and make the play to come out to Pizza Tugos in Ocean City, MD and grab yourself some classic football food and beer to cheer on your favorite team all season long!