Pizza Places Near Me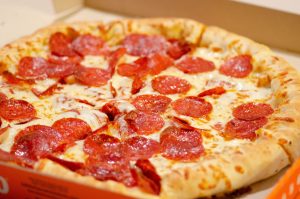 Looking for a pizza places near me? Look no further than Pizza Tugos in Ocean City, Maryland! Since 1983, Pizza Tugos has been Ocean City, MD's original, premier pizza delivery service. Hangry? No problem! At Pizza Tugos we make sure every order is delivered fast and free. Get your lunch, dinner, or late-night snack when you need it, without paying extra to have it delivered! 
Carry Out Pizza Near Me
At Pizza Tugos, we pride ourselves on being the best pizza delivery service in Ocean City, and West Ocean City. With three locations spread throughout our favorite beach town, you're guaranteed to get your order fast and fresh. Order Pizza Tugos for movie and game night, or a quick meal after a long day. 
In the mood for something other than pizza? At Pizza Tugo's, we offer delicious entrees that will satisfy every taste bud. Consider a delicious helping of baked ziti, coconut shrimp, and so much more! Each of our dishes is prepared to perfection, ensuring an amazing meal with every bite. 
Best Wings in Ocean City
Hungry for wings? We've got you covered! Enjoy some of the biggest, fattest, juiciest wings in town when you order 10, 20, or even 50 wings! Or, if you prefer your wings without the bone, enjoy half a pound of boneless wings! Enjoy the sauce options of mild, hot, extra hot, BBQ, Old Bay, garlic parmesan, sweet Thai chili, mango habanero, and sweet teriyaki! 
What are you waiting for? Find pizza places near me at Pizza Tuogos and Order Online to enjoy Fast and Free Delivery when you Carry-Out with the Best Pizza in Ocean City, Maryland.