Pizza for Thanksgiving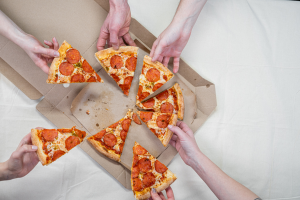 Did you know there is such a thing as Thanksgiving Eve Pizza? Yes, there is! The Wednesday night before Thanksgiving is one of the busiest nights of the year for pizza orders. The convenience, large portions, and shareability make this one of the best dining options for families wanting to go easy on the cooking leading up to the holiday. 
Maybe turkey on Thanksgiving isn't your thing? Try Pizza Tugos for Thanksgiving dinner! Make some new traditions and order some pies to share with friends and family. Order your Thanksgiving pizza from Tugos for our 30-minute, free delivery!
Pizza Places in Ocean City, MD
Make it easy and order carry out this Thanksgiving holiday. Avoid the hassle of cooking for hours and doing tons of dishes. Take the pressure off and order a pizza this year! Pick your pizza toppings, or choose one of our craft pizzas from the menu. Plus, pizza is a crowd-pleaser. Who doesn't love pizza? 
Here are some of our favorites and their toppings:
The Godfather – pepperoni, sausage, ham, ground beef, bacon, green pepper, onion, mushroom, and extra cheese.
The Meat – pepperoni, ham, sausage, ground beef, bacon, and extra cheese
Veggie – green pepper, mushroom, onion, and extra cheese
Hawaiian – pineapple and ham
Cheeseburger – ground beef, bacon, pizza cheese, sliced American cheese, pickles
Buffalo Chicken – chicken, hot sauce, bleu cheese, cheese, ranch
If you're looking for some different sides, check out menu items like wings, jalapeno poppers, mozzarella sticks, and buffalo chicken dip. 
If you're thinking of dining in, visit one of our three locations: 116th St. & Coastal Highway, 18th St. & Coastal Highway, and Rt 50 & 611. Bring the family or host a Friendsgiving at our taproom on route 50 to enjoy some pizza and a wide selection of craft beer. 
Follow us on Facebook and Instagram for updates on hours and specials! Continue the old or make some new traditions with a Thanksgiving Eve or Thanksgiving Day pizza! Call us or order online!