Pizza Delivery in Ocean City, Maryland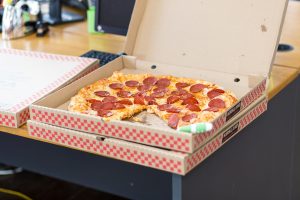 Looking for pizza delivery? Pizza Tugos in Ocean City, Maryland has you covered! When you order from Pizza Tugos, your pizza is always delivered fast and free! Pizza Tugos has been Ocean City's original pizza delivery service since 1983. With three locations throughout town, you'll always be sure to get your fresh pizza delivered quickly. 
Our Uptown location is conveniently located on 116th St. perfect for fast delivery for locals and out-of-towners who are staying on the North end of town. 18th Street is home to our Downtown location that's within the perfect distance for those who are staying closer to the boardwalk and inlet and are looking for an easy bite to be delivered straight to their front door. If you live in West Ocean City, Berlin, or the surrounding area, the Pizza Tugo Taproom at Rt. 50 & 611 is the perfect location to place your order for quick delivery. 
Pizza Tugos serves more than delicious, mouth-watering pizza. Choose from subs, salads, calzones, wings, and more when you order delivery from Pizza Tugo. Try our legendary Godfather pizza that's stacked with pepperoni, sausage, ham, ground beef, bacon, green pepper, onion, mushroom, and extra cheese, pair that with an order of jalapeno poppers or fried pickles for a feast suited for a king in the comfort of your own home! Pizza Tugo serves all that and more, view our complete delivery and carry-out menu for all the delicious options. 
So what are you waiting for? Call in your pizza delivery to any of our three Pizza Tugo locations today!