Best Pizza & Craft Beer, The Weekend Is Near!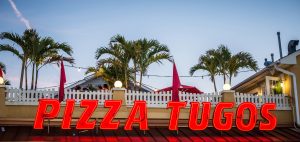 Happy Friday! The weather is great and you know what's even better? Spending time at our Tiki Bar at our West Ocean City location! We've got an awesome atmosphere, amazing food & drinks, and a picture-perfect view of the sunset each & every night. We also have fast, free delivery if you're feeling like spending a lazy night in. We can't deliver the beer, but we can bring the pizza like nobody else can! We are Ocean City's Original Pizza Delivery and we're bringing you great food all hours of the day and night.
For all of our soccer fans out there, the FIFA World Cup is coming to an end soon and you know you want to catch the final game with us this Sunday at 11 AM. There's going to be lots of red, white, & blue in the building for sure! We've got plenty of flat screen TV's and you know we're going to have the game on- we always do! It's going to be a great match. Who will take the cup…France or Croatia?
Order a craft beer (the coldest around), a pizza (the best in town), and root on your team. Wings are always a MUST and we are in Maryland- so you should check out our Old Bay Wings- they won't disappoint. The craft beers we have on tap today, may not be here tomorrow. No need to fear though, you can keep up to date with the latest on draft by clicking here and then selecting Follow Us to stay updates. And if you're a fan of dipping your pizza, you've gotta try our Boss Sauce. With that name, do you even need to hear anymore? Sports just don't feel the same without this stupendous trio of beer, pizza, and wings, so be sure not to miss out!
We hope you stop by to see us soon and have a great weekend!