Pair Your Next Meal with a Free Event in OCMD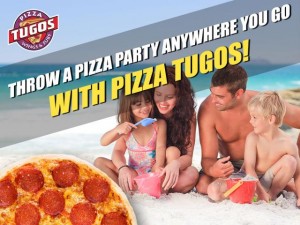 Now that the 4th of July has come and gone, summer is well underway. While some of you may be lamenting that summer is going by too quickly, at Pizza Tugos, we're focusing on what each day of summer brings! In our opinion, summer is just getting started, which means that there is plenty of sunshine, fun, and summertime eats to be had. On the fun end of the spectrum, summer events are endless at the beach, including a fantastic selection of events that are put on each week by the Town of Ocean City. Did you know that there are three opportunities each week to watch FREE, family-friendly movies on the beach in OCMD?! Or that each Thursday night, you can watch the sunset to live music during the Sunset Park Party Nights? Here are a few of the free events to enjoy this summer in Ocean City:
Movies on the Beach:
Monday & Friday at 27th Street; 8:30pm
Wednesday at The Carousel Hotel on 118th Street; 8:30pm
Sunset Park Party Nights at Sunset Park on S. Division Street and the Bay:
Every Thursday, 7pm-9pm, July 2-August 27
OC Beach Lights:
Every Sunday at 9:30pm, 10pm and 10:30pm, May 23-September 6
Sundaes in the Park at Northside Park:
Sunday afternoons with concerts starting at 7pm, July 12-August 30
Family Beach Olympics on the Beach in Downtown OCMD:
Every Tuesday at 6:30pm, June 23-August 4
Concerts on the Beach in Downtown OCMD:
Every Wednesday at 8pm, July 8-August 26
Of course, ALL of these terrific events are made better when you bring along a picnic from Tugos! Grab a couple of pizza pies for your family and friends to enjoy or switch it up with a variety of options like chicken fingers, wings, subs, pasta, fried pickles, salads, calzones…all made just a little bit tastier when devoured on the beach or while enjoying one of Ocean City's famous bayside sunsets. But please, leave only your footprints! We love our town and hate to see trash laying anywhere but in the dumpsters and trash cans.
Happy summer everyone, don't let it pass you by!