Off-Season Specials Are Calling Your Name!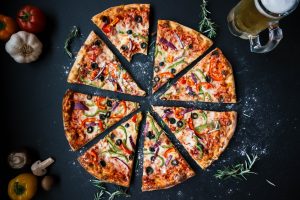 It's officially "off-season" in Ocean City and we all know what that means! It's time for wonderful dinner specials and football deals at all of your favorite restaurants.
Our Pizza Tugos location downtown off of Coastal Highway is unfortunately shut down for the season, but that just gives us the opportunity to focus on creating the perfect Fall atmosphere at our other two locations uptown and in West Ocean City!
Join us for our All-You-Can-Eat Pizza and Wings Football specials every Sunday, Monday, and Thursday! Who doesn't love unlimited pizza and wings during the game?
Tuesdays are big days for Pizza Tugos! Enjoy Half-Price Burger Night, Pint Night, and Bring-Your-Own-Vinyl Night all in one. Each week we will feature a new pint, starting with Bell's on Oct. 16! Following Bell's, we'll have Flying Dog (Oct. 23), Dogfish (Oct. 30), Ballast Point (Nov. 6), and many more. While enjoying your delicious pint of beer and juicy, fresh half-price burger, listen to your favorite vinyl records as they play throughout the restaurant!
There's a big difference between BYOB and BYOV. We've got the burgers and beer, you just bring the vinyl records!
Come in on Wednesdays for Half-Price Pizza! While of course we want you to dine with us in the restaurant, we understand there are many other places you and your family and friends can enjoy our delicious slices of pie. Half-Price Pizzas are now both dine-in and carryout.
Stop in any time for your favorite deals and fall in love all over again with Pizza Tugos this Fall!