The Ocean City Winterfest of Lights (and Pizza)!!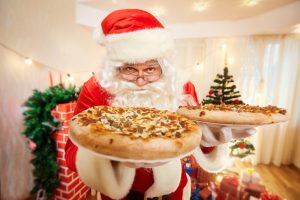 Can you believe there's already less than a week until Christmas?! You're probably getting your last minute shopping done, planning various holiday parties, and attending a lot of the Christmas festivities that Ocean City, MD has to offer at this time of year. One popular and classic event in Ocean City, MD is of course the wonderful Winterfest of Lights – perfect to gather your friends and family and experience the ultimate Christmas paradise.
More than one million holiday lights are lit up to put you in the holiday spirit and prepare Ocean City, Maryland for a holly jolly Christmas. The Winterfest of Lights are located on 125th Street only nine streets away from our 116th Street location! Instead of traveling miles and miles to a restaurant, just drive down the street to Pizza Tugos in Ocean City MD to chow down on some hot, delicious pizza. You are probably going to get plenty of helpings of Christmas ham, green bean casserole, and mashed potatoes, so why not switch it up?
Pizza Tugos in OCMD is a must when you have a craving for pizza or wings. And, if you'd like to sip on an adult beverage with your mouth-watering pizza we offer many craft beers from Stouts, to IPAs and even Pilsners. If beer isn't your thing, don't fret, we have plenty of cocktails, crushes, and wine that will make you feel warm and cozy. Pizza Tugos in Ocean City, MD offers everything! From wings to sandwiches and even Italian dishes like spaghetti and baked ziti, Pizza Tugos' menu gives you a wide variety of items to choose from making it hard to decide and fun for the whole family.
And if you'd rather stay at home and enjoy Pizza Tugos' delicious delights we offer a separate delivery and carry-out menu offering many of the same great foods to enjoy while relaxing in the warmth of your very own home.