So Long Rain! It's all Sunshine (and Pizza) for Memorial Day Weekend in OCMD!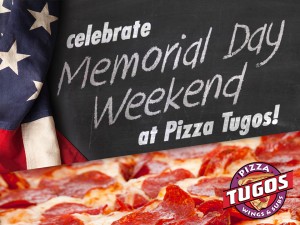 We never thought we would be SO overjoyed to see a weather forecast that included more sunshine than rain clouds. This spring has been a wet one to say the least, so having a warm, sunny Memorial Day Weekend in our future is fantastic news to local and visitors to Ocean City. While we are excited to finally hit the pool, the beaches, and to simply see continuous sunshine, we are also thrilled to be able to finally take advantage of our rooftop Tiki Bar! This weekend, we invite you to join us on the roof for drinks as we welcome the true start to the summer season in our resort town.
Memorial Day Weekend is when the busy season really kicks off in Ocean City, MD, with hundreds of thousands of visitors traveling to our area to enjoy our free beaches, our world-famous boardwalk, and all of the events, activities, and fun that OCMD has to offer. We look forward to seeing new and returning guests at all of our locations, and with food and entertainment for the entire family to enjoy, we invite you to bring the whole family in to visit us at our West Ocean City location. Kids can enjoy our kids menu as well as free dough to play with and our game room. Adults, we've got you covered too with an expansive menu, a full bar, and the widest selection of craft beer in town! Enjoy a game on our flat screen TVs or head to the roof to soak up the sun and the warm weather. See you ALL this weekend!