Ocean City, Maryland Pizza Delivery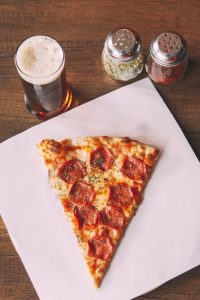 Need pizza delivered in Ocean City, Maryland? Pizza Tugos offers the best delivery service on the Eastern Shore, making sure that your pizza is always delivered fast and free. When you order from Pizza Tugos, you can be sure that you're always receiving good quality pizza with the freshest ingredients available.
Fast and Free Pizza Delivery
Pizza Tugos has been Ocean Citys original pizza delivery service since 1983. With three locations throughout Ocean City, you can be sure that your pizza will always be delivered on time for a night in with friends, or an easy dinner that will please the entire family!
Looking for pizza in Berlin, Maryland or West Ocean City? The Pizza Tugo Taproom at R. 50 & 611 is the perfect location to place your order for fast and free delivery. Order a bite of the best pizza in Ocean City, or try something different! Pizza Tugo serves wings, subs, salads, calzones, and so much more, view our complete delivery and carry-out menu for all of our delicious options.
For those who are staying in town, our Uptown location is located on 116th St., perfect for out-of-towners and locals who reside on the North end of town. If you're staying closer to the Ocean City boardwalk, our Downtown location on 18th St. is perfect for those who are looking for an easy bite to be delivered straight to their front door after a long day on the beach.
What are you waiting for? Order Online and enjoy Fast and Free Delivery when you Carry-Out with the Best Pizza in Ocean City, Maryland.