Nov. 12 is 'National Pizza With The Works Except Anchovies!'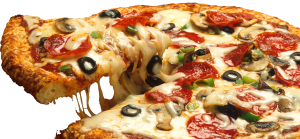 Believe it or not, Monday, November 12 is 'National Pizza With The Works Except Anchovies' Day. Pick out all of your favorite pizza toppings and add them all together for the most delicious pizza ever! But, leave the anchovies for another day.
Anchovies, classified as oily fish, are a family of small, common salt-water forage fish. There are over 140 species found in the Atlantic, Indian, and Pacific Oceans, but essentially all anchovies are small, green fish with blue reflections and silver stripes.
After their lives come to an end in the deep blue sea, anchovies are processed in a salt brine and then packed in oil or sat, giving them a strong flavor that everyone recognizes. If they are packed in vinegar, they often have a milder taste.
But that's enough about anchovies, because this day is all about avoiding them! It's time to focus on all of your other favorite pizza toppings, like pepperoni, olives, bacon, mushrooms, onion, sausage, pineapple… you name it!
Whether you prefer thin or thick crust, hand-tossed, or deep dish, load your cheese-y pie up with all your desired toppings and make the most out of this National Pizza Day! As if we really need another excuse to indulge in pizza…
Post to social media using the hashtag #PizzaWithTheWorksExceptAnchoviesDay.