New Year's Eve in Ocean City, MD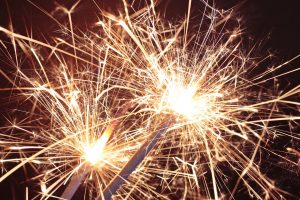 What better way to start your New Years' Eve than with the best pizza in Ocean City, Maryland? Less than 5 minutes from our Pizza Tugos location on 116th Street is Northside Park where the Town of Ocean City will be celebrating 2020 with their New Year's Eve Celebration and Fireworks Show! 
Relax and enjoy New Year's Eve dinner complete with the best pizza in Ocean City, Maryland crab dip, the biggest wings on the Eastern Shore, and more. Since 1983, Pizza Tugos has provided the Ocean City area with the best-tasting pizza, offering three locations throughout town to enjoy each slice. Visit Pizza Tugos for your favorite pizza from classic to unique, no matter which one you order, as soon as you take that first bite you'll know that you've made the right choice. 
Head to Northside Park after enjoying the best pizza in Ocean City and celebrate 2020 and the 27th Annual Winterfest of Lights. This event is family-friendly and begins at 5:30 pm until 12:15 am. Enjoy live entertainment, warm hot chocolate, and the last opportunity to ride through the Winterfest of Lights until next year. After your ride through more than one million holiday lights and hundreds of animated light displays, watch the Winterfest of Lights New Year's Eve Fireworks Show! A family-friendly way to ring in the New Year in Ocean City, Maryland! 
New Year's Eve Parties in Ocean City, MD
Looking for a New Year's Eve party in Ocean City, Maryland? Don't forget to grab a bite to eat before you hit the town. Less than a 10-minute drive south of our 116th Street location is Seacrets Jamacia USA, the home of Seacrets New Year's Eve Bash! With a $30 cover charge at the doors beginning at 6 pm, Seacrets will be filled with the best bands and DJs in Ocean City, as well as a balloon drop and a complimentary champagne toast at midnight. 
Head to Cowboy Coast's New Years' Eve Party, which is just around the corner from our location on 18th Street. Cowboy Coast will host Sam Grow live onstage, with early advance tickets on sale for $60/person with a free premium open bar all night, mechanical bull riding, and a complimentary champagne toast at midnight! 
You can also choose to spend your New Year at Pickles Pub, a three-minute drive south of Pizza Tugos at 18th Street! Ring in 2020 with Ray & the Revolvers live onstage, and a champagne toast at midnight with no cover charge! 
New Years Eve Ball Drop in Berlin, Maryland
Enjoy the best pizza in Ocean City at Pizza Tugos Taproom, and then head to Berlin, Maryland on New Year's Eve to watch the NYE Ball Drop at midnight. Just a short drive from Ocean City, Maryland, enjoy the Town of Berlin's New Year's Eve Ball Drop by gathering in front of the Atlantic Hotel. Festivities will start at 10:00 pm, with food vendors and Burley Oak Brewery offering refreshments throughout the night. Enjoy live DJs and a light show for entertainment, while watching the countdown clock which will be projected on the side of Town Center Antiques for attendees to count down the final seconds until the ball is dropped and 2020 is upon us! 
No matter where you choose to ring in 2020, be sure that you make a trip to Pizza Tugos part of your New Years' Eve traditions!