National Sausage Pizza Day!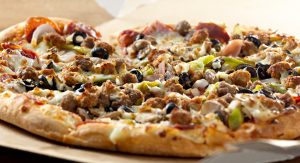 October 11th is National Sausage Pizza Day so be sure to head on into a Pizza Tugos in Ocean City, MD for a yummy cheesy pizza with delicious sausage! What toppings do you like best? Whether you like onions and sausage, peppers and sausage, or another creative combination, you will surely enjoy our wonderful pizza here at Pizza Tugos! We have an awesome environment and a fantastic food and drink menu! Nothing beats finding an excellent pizza and beer joint as your go-to hangout, and Pizza Tugos is the place for you!
Pizza is what we do best! We have been in business since 1983 and were the first pizza delivery shop in Ocean City! We are known as the Ocean City Pizza Boss! Since our opening in '83, we have expanded our menu and opened multiple locations. Dine-in or order carryout (remember we have fast, free delivery!) and try one of our famous pizzas and spice it up a bit with our many selections of meat, veggies, or dipping sauces! Or if you're looking for a really interesting pizza, try one of our craft pizzas! Our craft pizzas have toppings, toppings, and more toppings! We hope you are ready for some out of this world flavors!
Nothing pairs better with one of our pizzas than a selection of one of our craft beers on tap! So be sure to order one to go with your marvelous meal! We have a wide array of selections that are frequently changing. We like to bring in new excellent beers from the top breweries in the nation for your enjoyment!
We can't wait to see you here at Pizza Tugos for National Sausage Pizza Day! Come visit us at our West Ocean City location, or at our 18th Street or 116th Street locations for a mouth-watering pizza!