National Pizza Day at Pizza Tugos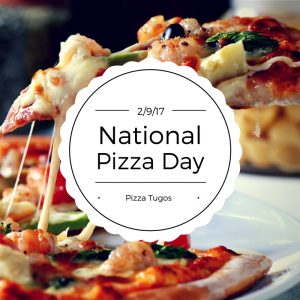 We could all agree that pizza is a favorite cuisine among our local community. Customers come and go, leaving their bellies satisfied with some of the best pizza in Ocean City, MD – especially when they chow down here at Pizza Tugos. Pepperoni, Veggie, or Cheese, thin crust or stuffed crust, Pizza is just tasty all around. You might be wondering why we're rambling on about this delicious and mouth watering cuisine, but we do have a reason: it's National Pizza Day!
What better way to spend your Thursday than to celebrate a beautiful holiday like National Pizza Day with us here at Pizza Tugos in Ocean City, MD?! We have a wide selection of craft pizza like The Godfather, Mystic Mushroom, King Caine, The Meat, and even Cheeseburger Pizza. Is your mouth watering, yet? You can even build your own! We have a variety of pizza toppings so you can create your dream pizza!
Our meat toppings include: pepperoni, sausage, bacon, ham, ground beef, anchovy, and even steak. Doesn't that all sound scrumptious? If meat isn't your thing, we have eleven different veggie toppings to choose from including: artichoke hearts, green pepper, green/black olives, and even pineapple. Want meat AND veggies on your pizza? We can do that, too! Want a delicious beverage to pair with your pizza? Well, we offer a huge selection of craft beer, from stouts to IPAs and even lagers. Most of our beers are local, too!
Can't make it in to celebrate with us? We'll bring the celebration to you! We're Ocean City's original pizza delivery service so you can enjoy our famous pizza in the comfort of your own home! We have three different locations to choose from to get the best pizza in town at your convenience. You can't buy happiness, but you can buy pizza – and that's kind of the same thing! So let's celebrate one of the best days of the year: National Pizza Day at Pizza Tugos in Ocean City, MD!