National Chicken Wing Day in Ocean City!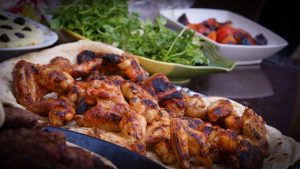 July 29 is National Chicken Wing Day, and we're ready to celebrate! At Pizza Tugo we serve up some of the biggest, juiciest wings in Ocean City! Although we don't believe that anyone should need an excuse to enjoy the number one appetizer in America, this holiday is a great reason to head out to any of our three Pizza Tugo locations and explore the different options available!
National Chicken Wing Day
Did you know that chicken wings were invented by mistake? In 1964, a woman named Teressa Bellissmo ordered chicken necks and by mistake was served chicken wings at the Anchor Bar in Buffalo, NY. And the rest, as they say, is history! Since that day a number of establishments across America started selling their version of chicken wings, and in 1977 the city of Buffalo, NY proclaimed July 29 to be National Chicken Wing Day.
Explore Our Options!
At Pizza Tugo we have plenty of wing sauces and seasonings available! Are you in the mood for a traditional hot wing? Or do you prefer this American classic with a twist by trying our sweet thai chili sauce? Try getting into the spirit of the Eastern Shore with Maryland's Favorite Seasoning – Old Bay! Regardless of what you're hungry for, we have the topping for you!
Get your Wings 'Tugo'
Enjoy a delicious meal at home without the mess and stress of cooking! When you order carry-out you have the option of picking up your order in-store, or we can deliver so you never have to leave the comfort of your own home! Not all dine in menu items are available for delivery or carry-out, so check out our delivery & carry-out menu here!And don't forget! Online Ordering is available at all three locations!